Investor Relations
Stock Quote - NYSE: MET (Common Stock)

Corporate Profile

MetLife, Inc., through its subsidiaries and affiliates ("MetLife"), is one of the world's leading financial services companies, providing insurance, annuities, employee benefits and asset management to help its individual and institutional customers navigate their changing world. Founded in 1868, MetLife has operations in more than 40 countries and holds leading market positions in the United States, Japan, Latin America, Asia, Europe and the Middle East. For more information, visit www.metlife.com

.... 
More >>
Recent Financial Press Releases

Date

Title

03/07/18

MetLife Investment Management Announces Plans for Major Midtown Development in Atlanta, GA

Multi-phase development will total approximately 8.5 acres once complete ATLANTA, March 07, 2018 MetLife Investment Management, the institutional asset management business for MetLife, Inc. (NYSE: MET), has announced plans to move forward with a major mixed-use redevelopment project at 17th, West Peachtree and Spring Streets in Midtown Atlanta. MetLife Investment Management has submitted plans and renderings to the Midtown Alliance for the project at 1295 Spring St... 

03/05/18

MetLife Confirms First Quarter 2018 Preferred Stock Dividend

NEW YORK--(BUSINESS WIRE)--Mar. 5, 2018-- MetLife, Inc. (NYSE:MET) today announced that it has confirmed its previously announced declaration of the first quarter 2018 dividend of $0.25 per share on the company's floating rate non-cumulative preferred stock, Series A (NYSE: METPrA). The New York Stock Exchange has not yet set an ex-dividend date for the Series A preferred stock. Following this confirmatory announcement, the New York Stock ... 

03/01/18

MetLife Files Form 10-K with Revised 2017 Financial Results

NEW YORK--(BUSINESS WIRE)--Mar. 1, 2018-- MetLife, Inc. (NYSE:MET) today filed the company's 2017 Form 10-K with the U.S. Securities and Exchange Commission. The financial statements contained in the 10-K reflect upward revisions to the company's full-year 2017 net income as reported on February 13, 2018, with no impact on adjusted earnings. The revision relates to a release of reinsurance reserves for Japanese variable annuities following... 

02/20/18

MetLife Announces Change to Board of Directors

Gerald L. Hassell named to board with immediate effect Alfred F. Kelly, Jr. will not seek re-election NEW YORK--(BUSINESS WIRE)--Feb. 20, 2018-- MetLife, Inc. (NYSE:MET) today announced the following changes to its board of directors. Gerald L. Hassell has been elected to its board of directors, effective immediately. Hassell most recently served as the Chairman and CEO of The Bank of New York Mellon Corporati... 

Availability of MetLife, Inc.'s Audited Financial Statements

MetLife, Inc. will provide to all holders of its common and preferred stock, as well as debtholders, without charge, upon written request, a copy of MetLife, Inc.'s most recent Annual Report on Form 10-K (including audited financial statements and financial statement schedules). Requests should be directed to MetLife Investor Relations, MetLife, Inc., 200 Park Avenue, New York, NY 10166.
Upcoming Events

Receive E-mail Alerts

Sign up to receive e-mail alerts whenever MetLife, Inc. posts new information to the site. Just enter your e-mail address and click Submit.
Related Links
Chairman's Letter
Annual Report
Annual Meeting Proxy Statement
SEC Section 16 Filings
Location of 2017 Annual Meeting of Shareholders
2017 Special Meeting of Shareholders
Read MetLife's Global Impact Report highlighting the many ways we operate as a good corporate citizen. Click here for Full Report and/or Summary
Brighthouse Financial Distribution Information
SIFI Oral Argument
District Court Order and Opinion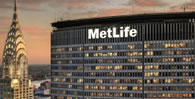 Download current Chairman's Letter, Annual Report and Proxy Statement




Fourth Quarter 2017 Financial Update
CFO John Hele Provides a Fourth Quarter 2017 Financial Update
Disclaimer